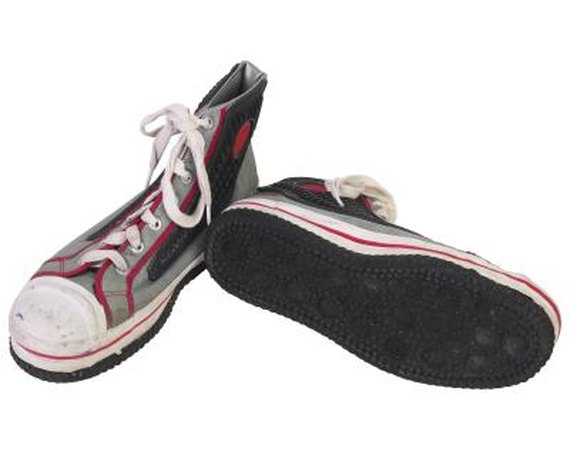 When lipstick accidentally swipes or falls against your sneakers, it leaves its mark. A combination of dye and oil makes lipstick tedious to remove. You can successfully get lipstick out of your sneaker material but must treat both aspects of the stain in a manner that doesn't cause it to spread further into the material. Use the right supplies and careful stain removal techniques to get a lipstick stain out of your sneakers without damaging your shoes.
Instructions
1

Scrape excess lipstick off the sneaker material with the edge of a spoon. Wipe the lipstick on a paper towel. Continue this process to remove as much lipstick as possible.

2




Sticky tape helps remove lipstick embedded in the sneaker material.

Lay clear tape over the remaining lipstick residue. Press lightly on the tape. Peel the tape off to remove lipstick residue. Repeat this step three or four more times.

3




Baby powder soaks up an oil-based stain.

Sprinkle baby powder over the lipstick stain to absorb oil. Allow the powder to remain on the surface for 15 minutes. Brush the powder off.

4

Moisten a cleaning cloth with water. Place a dime-sized amount of laundry detergent on the damp cloth. Rub the detergent into the lipstick stain.

5

Rinse the sneakers by blotting the material with a damp cloth. Pour white vinegar onto a separate cloth and blot the sneaker material to remove any last trace of dye and oil stain.

6

Sponge the sneakers with a dry cloth to remove excess moisture. Fill the sneakers with newspaper to hold their shape during the drying process. Allow your shoes to air-dry away from heat sources.
---