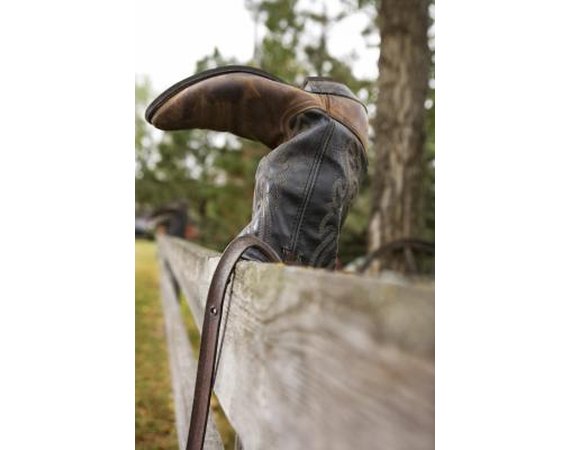 Boots are now as common on the runway as they are on the ranch. Many modern designers create high-end boots with wide commercial appeal, bringing a new aesthetic to these time-tested work shoes. You can give your own boots a designer look by adding embellishments. From paint to fabric to studs, there is a variety of embellishments you can use to create your own unique footwear.
Instructions
1

Add sparkle and interest to your boots with metal studs. Studs are available in a wide variety of sizes and shapes, and require no special tools to attach. Look for studs manufactured to be mounted on jackets or other leather apparel items.

2

Paint colors, shapes, designs or images onto your boots. Lightly sand the area of the shoe you wish to paint to remove any wax, polish or gloss, and use a high-quality latex acrylic paint. Paint adheres best to boots in areas where there is substantial structural support and little bending, such as heels.

3

Decoupage newspaper or magazine clippings, old postage stamps or other paper items onto your boots. Apply the items with decoupage glue, sold at most craft stores.

4

Apply small, three-dimensional items such as strips of lace, buttons or silk flowers to your boots. Secure the items to your boots using temperature-melt glue, which is strong but highly elastic.
---