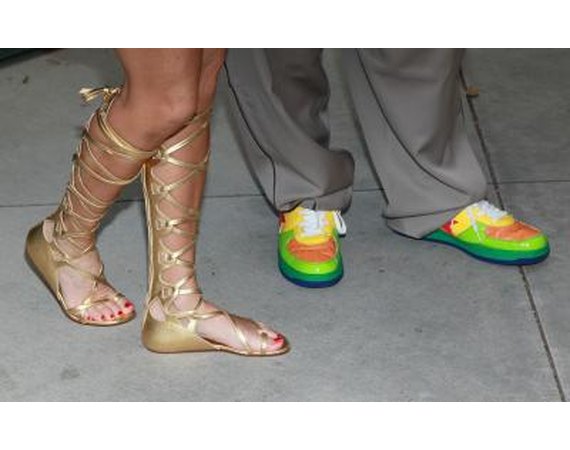 When worn appropriately, gladiator sandals can make a lasting impression without making the woman wearing them look like a Grecian goddess on her way to a Halloween party. Available in a variety of colors, lengths, materials and price ranges, gladiator sandals are versatile and unique. Whether they are ankle-high, mid-calf or knee-high, brown or black leather, metallic or snakeskin, gladiator sandals have the ability to make a woman feel confident, sophisticated, laid-back or youthful.
Instructions
Wearing the Sandals
1

Pair them with shorts or dresses. Gladiator sandals can be worn with shorts, skirts or sundresses for a casual look. Ankle-high gladiator sandals may be worn with long or short skirts or dresses, while mid-calf or knee-length gladiator sandals should be worn with skirts or dresses that sit above the knee.

2

Dress up a solid-colored evening dress with a metallic gladiator sandal, or wear a metallic dress with a metallic sandal for greater impact. Metallic sandals add instant pizazz to a semi-formal dress.

3

Aim for a bohemian look with brown leather gladiator sandals. These sandals, when worn with a lightweight cotton dress, portray a laid-back vibe that works well during the spring or summer months.

4

Kick up your fashion quotient with snakeskin sandals. Gladiator sandals that are made of snakeskin are more formal than their brown or black leather counterparts, yet more relaxed than metallic gladiator sandals. These may be dressed up with a pair of tailored slacks or dressed down with a pair of jeans.
---