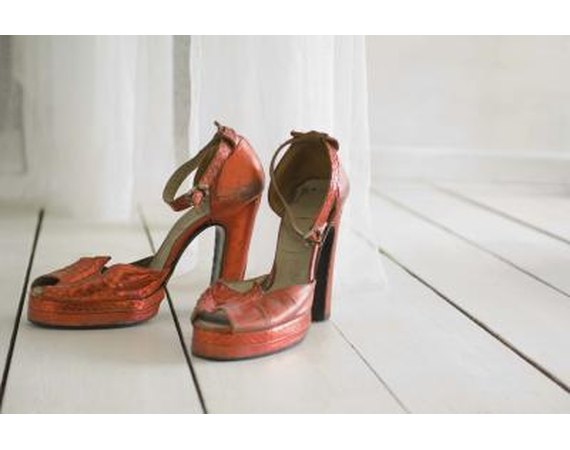 Whether you have a pair of heels to repair or are going to make your next pair from scratch, learning how to shape the soles of high-heeled shoes means the difference between ending up with an arch that is high or flat. High-heeled shoes do not have a single straight mold for the soles, like flat shoes do. Instead, the soles are arched so that they can cover the uppers of the shoe, as well as the shank where the shoe begins to curve up to create the high-heeled effect.
Instructions
1

Fill a large bowl with water. Place the leather fabric into the bowl. Soak the leather until it becomes easy to bend and shape. You can tell when the leather is ready by bending and shaping the leather with your hands while it is still in the water.

2

Remove the leather from the bowl of water and set it onto a dry towel.

3

Step onto a piece of construction paper with your bare foot. Trace around your foot from the heel to the toes to create the template for your soles. Get the exact shape of your foot in order to fashion your high heels to fit you. Cut out the traced template.

4

Set the template on top of the sheet of leather. Use your pen to trace the image of your foot onto the leather. Cut out the leather with leather scissors.

5

Place the leather sole onto a lapstone that you hold in your lap. You can also use another type of hard and flat surface. Pound the leather with a mallet until it is smooth and thin.

6

Cut the leather sole so that it is appropriately shaped for a high heel. Place your bare foot back onto the leather sole. Bend down and mark on the sole where your arch ends and your heel begins. Use leather scissors to cut off the heel as the soles for high heels do not extend the entire length of the foot.

7

Mark where the stitching on the soles should go, using the pen. Keep the stitching marks close to the edge of the sole. The closer you can make the stitching, the less the leather fabric will peel.
---