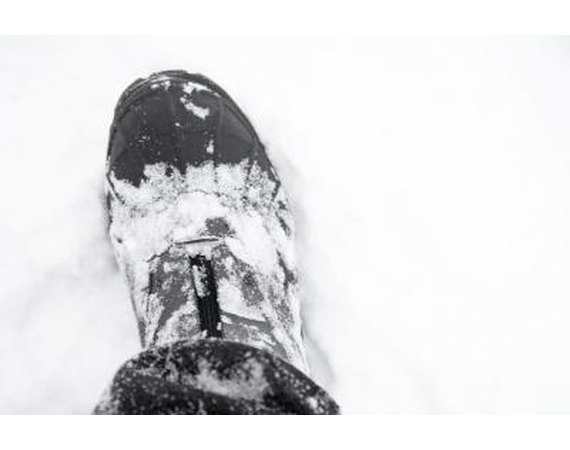 You are bound to walk across a patch of rock salt during the winter months and later find salt residue spoiling the look of your stylish leather, vinyl or suede boots. The granular white substance used to melt ice and snow on roads and sidewalks can leave marks that are difficult to brush off. While water will fade or dilute the stain, it will not remove it completely; however, mixing water with vinegar will remove the stain and return the boots to their normal condition.
Instructions
1

Brush off excess salt or dirt using a clean cloth or boot brush. You should also use an old toothbrush to get into the grooves of the boot, along the edges and around the lace or zipper areas.

2

Mix 1/2 cup of warm water and 1/2 cup of white distilled vinegar in a bowl.

3

Dip the corner of a clean cloth in the mixture and apply directly to the salt stain. Use small, circular motions to rub the salt stain. Apply slight pressure to the stain as you rub. Once the stain is removed, stop rubbing and move to the next area. Always dip the cloth before you move to a different salt stain. In addition, you can dip a clean toothbrush into the mixture to remove salt stains from the grooves of the boot.

4

Set the boots aside and allow them to dry completely. You will not be able to determine if the salt stains are completely removed until the boots are dry. Repeat the steps if the salt stains are still visible.

5

Spray the dry boots with water repellant tailored to the type of boot material. The spray will protect the boots in the future against water and salt damage.
---