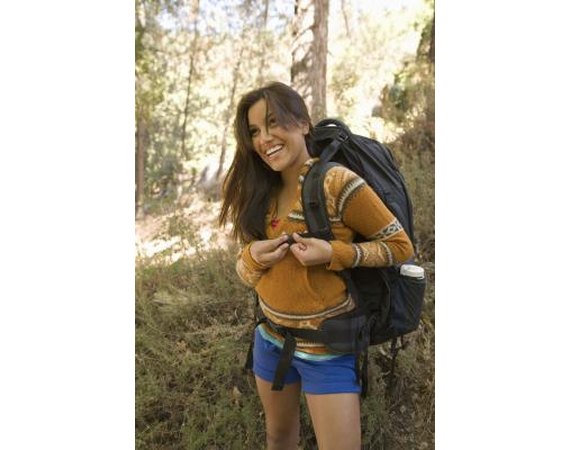 The Keen shoe company has manufactured and sold shoes targeting active people since 2003. The company prides itself on developing and selling hybrid shoes -- that is, shoes that can be worn in an active, casual or business settings. One such shoe, the Briggs, provides the ruggedness of a hiking shoe with the casual look of a loafer. Evaluating the quality of the various generations of Keen's Briggs shoes requires a close examination of customer reviews and product descriptions.
Materials
Keen Briggs and Keen Briggs II shoe manufacturers use different materials in the construction of each shoe type. Original Keen Briggs shoes use unsanded, unpolished leather in the construction of the upper part of the shoe, while Keen Briggs II shoes uses nubuck, a sanded, suede-like leather material. Additionally, though the soles of both shoes are non-marking and slip-resistant, only the soles on the Keen Briggs shoes are billed as oil-resistant. Further, Keen Briggs II shoes include specially designed memory-foam soles that provide greater comfort, while original Keen Briggs shoes use anti-odor soles.
Price
Perhaps because of the cost of the materials used in their construction, Keen Briggs shoes tend to cost nearly twice the amount of Keen Briggs II shoes. This likely stems from the former's use of all-leather in the construction of the upper part of the shoe, compared to the latter's use of cheaper and more readily available nubuck. Additionally, oil-resistant rubber tends to be formed from nitrile, a synthetic material that costs more to produce and mold than do non oil-resistant synthetic rubbers, such as styrene butadiene or polybutadiene.
Customer Satisfaction
Customers tend to rate Keen Briggs shoes higher than Keen Briggs II shoes. While customers recognize each as a comfortable, high-quality shoe good for outdoor use and even for jobs in which the wearer is on her feet all day, many reviews also point to the durability of Keen Briggs shoes as an additional plus.
Comfort
Both Keen Briggs and Keen Briggs II shoes boast dozens of reviews touting the shoes' comfort and wearability. The design and style of the shoes are such that the shoe itself comfortably fits over most sized feet. Because of the leather uppers, however, original Keen Briggs shoes seem to provide more breathability, according to some customer reviews.
---