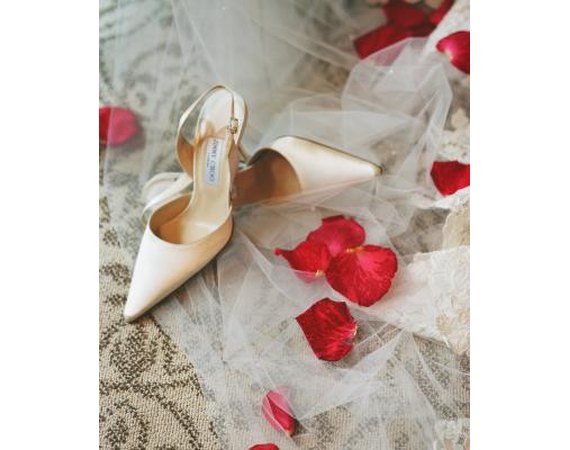 Every day, somewhere in America, there's a little girl or young woman preparing for a beauty pageant. An estimated 2 million to 3 million girls and women compete annually in more than 100,000 pageants in the United States. Many contestants hire coaches to help them prepare for interviews, apply makeup, develop a talent, select clothes, complete paperwork and pair the right shoes with every outfit worn on stage, including evening gowns. If you can't afford a coach to prepare you for the pageant, it's essential to learn which types of shoes are appropriate with evening gowns.
Nonplatform High Heels
Shoe height depends on your age. Young adults and women are expected to wear high heels with their evening gowns in pageants. Heels generally range between 4 and 5 inches. Choose the highest heels in which you can walk across a stage comfortably. Avoid platform high heels as they come across as clunky. If you need a little platform beneath the toe for comfort, make sure it's thin and nearly unnoticeable. Avoid heel heights that are so uncomfortable that they prevent you from moving fluidly and with grace or those that cause the hem of your evening gown to rise above the floor.
Nude, Beige or Clear Shoes
Avoid shoes that draw attention to your feet. Nude, beige or clear shoes create a seamless, elegant look that fits your gown without detracting attention from it. The only time you should wear a pair of black shoes is if your evening gown is black. Select a style that complements your gown. If your gown is simple yet elegant, look for shoes with simple, clean lines and no ornamentation. If your gown is ornately decorated with bows, frills, lace and beads or stones, choose a pair of shoes that has rhinestones or cubic zirconium on them.
Dance Character Shoes
While young adults and women are expected to wear high heels, it is acceptable for children to wear flats or low, 1-inch heels with evening gowns. Dance character shoes, usually beige, can be ordered online from dance supply companies. These shoes have low, flat heels and are appropriate for girls wearing evening gowns in beauty pageants. Tap shoes can also be worn as long as you remove the taps. Toddlers may wear ballet shoes.
Straps
Just as closed-toes shoes should be reserved for the interview portion of the pageant, strapless high heels should be reserved for your closet at home. Bring a pair of high heels with straps to the pageant to wear with your evening gown. Look for a shoe with simple, sexy straps that cross two or three times on the top of the foot and wrap around the ankle once. Avoid a shoe with so many straps that it draws undue attention to your foot.
---