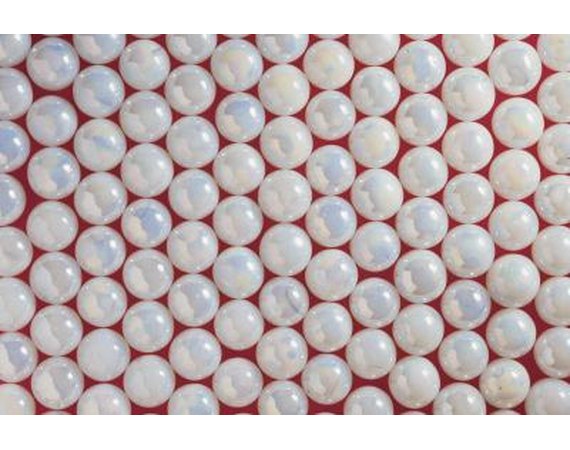 Beading your shoes will revitalize ordinary footwear to reflect your personal taste. Depending on the beads you choose, you can either glue them to the surface of your shoe or sew them on. You can attach beads to your shoes in deliberate patterns or more simply, in a decorative strand or a single bead.
Selecting Beads
Decide on the color of your beads: Consider if you want your beads to contrast against the color of your shoe or match it. Determine if you want sparkly metallic beads that attract attention, or more subdued shades beads.

If you don't feel confident using a needle, select light, flat beads that you can attach with a hot-glue gun. Don't use too many heavy, chunky beads unless you don't mind them weighing down your shoe.

Seed beads are tiny beads used as decoration on women's coats, purses, dresses and necklaces. They come in every color imaginable. Bear in mind that it may take twice as long to decorate with seed beads; each individual bead covers very little surface area, and they look best when sewn on.
Materials
Sandals are the easiest footwear to work with, as you have access all around the straps. Boots also are a good choice because you can easily sew around the top edge of the boot. Traditional dress shoes are suitable as well, but it's a lot harder to sew beads to the toe of dress shoes, in which case you'll have to use a hot-glue gun to attach the beads.

Use illusion cord instead of traditional thread to sew on beads; the clear, plastic thread is a lot stronger. It's available at bead and craft stores. You can also use embroidery thread, which is quite sturdy and comes in a range of colors that you can use to match your shoes or the beads. Selecting a needle is easy: Always use a beading needle, which is longer and bends easily.

Keep scissors at hand for cutting cords or threads. Use masking tape to secure beads in place as you sew them. A flexible measuring tape helps with exact measurements.
Beading Tips
As a novice, start with just a few small to medium-size beads and dont try to execute intricate patterns or designs, as you could get discouraged.

Attach large beads to a shoe individually. Large beads tend to be heavy, so add a touch of craft glue, in addition to stitching it in place. Glue also helps keep the bead from bouncing.

Add strands of beads to your shoes securely by creating a base of illusion cord directly onto the area where you want the beads, making a horizontal or vertical row of stitches. Then, by pulling the cord even on either side of the stitches youve just sewn, you can add beads to either side of the cord. Lock each beaded strand to the shoe by sewing against the back to the material of the shoe, where you made your original row of stitches. Repeat with the other side of the illusion cord. This creates a more fixed environment for your beads.
---
Natural Running Shoes by Newton Running Hello Better

www.newtonrunning.com

Newton Running shoes are built with Action/Reaction TM technology, which reduces impact, returns energy, and propels you forward so you can run faster, farther ...

Do it yourself

www.

doityourself

.com/forum

Question and Answer Forums for home improvement, home repair, remodeling, decorating, hardware, electrical, electronics, travel, health, investments, real estate ...

Landscaping Ideas - Landscape Pictures, Tips to Beautify Yards

landscaping.about.comLandscaping Pictures Home Landscape Design Landscape Design

Do you seek landscaping ideas and plant facts? View pictures, landscape tips, hardscape info, and join my proud community of plant geeks!

RHIAN RAMOS AND MO TWISTER SEX VIDEO SCANDAL? Do it yourself ...

www.travelon

shoes

tring.com/2011/12/rhian-ramos-and-mo-twister...

DO IT YOURSELF TRAVELS, PHOTOGRAPHS AND MEMORIES ... Anonymous said... nais ko lng mag comment kay lolit solis sa sobrang pang lalait kay PNOy sobra sa

The Complete Home DIY Guide: a do-it-yourself home

www.completediyguide.com

A clear, easy-to-follow, one-page list of over 550 of the best do-it-yourself (DIY) websites, carefully compiled by hand. Regularly checked and updated.

Shoes the Full Version - YouTube

www.youtube.com/watch?v=wCF3ywukQYA

get it on iTunes: https://itunes.apple.com/album/shoes/... Featuring Liam Kyle Sullivan as Kelly, Chris and Kelly's Dad...Pam Cook as Kelly's mom ...

ThreadBanger - YouTube

www.youtube.com/user/ThreadBanger

Threadbanger....It's DIY OR DIE around here!!! Email us: threadbangerstyle@gmail.com

Do it yourself Travels, Photographs and memories

www.travelon

shoes

tring.com

Do it yourself travels, photographs, food, inspirational, Charice Pempengco, Manny Pacquiao.

Pinterest

pinterest.com/all/?category=diy_craftsHome Decor Kids Popular Holidays

Pinterest is a tool for collecting and organizing things you love. Millions of people use Pinterest in their lives and work. No matter what you're interested in ...

Not JUST A Housewife Do-it-yourself projects and Home Decor

www.notjustahousewife.net

Do-it-yourself projects and Home Decor ... Wow. Yesterday was a Monday, if you know what I mean. It will probably take all of today to get caught up from the ...

Bored? Play Free Games, Fun Stuff to do @bored.com

www.bored.comStickman Games Angry Birds Happy Wheels Shooting

Beat your boredom & play 1000s of free games at Bored.com. Explore our microsites and have fun!

The Silence of the Lambs (1991) - Quotes - IMDb

www.imdb.com/title/tt0102926/quotes

The Silence of the Lambs (1991) Quotes on IMDb: Memorable quotes and exchanges from movies, TV series and more...

Pee Wee Herman - Tequila - YouTube

www.youtube.com/watch?v=UVKsd8z6scw

Hilarious scene of Pee Wee Herman walking into a biker bar....and the mayhem begins!

ShoeDazzle! Style. Personalized.

www.

shoe

dazzle.com

The world's premier shoe society. Get one pair of extraordinary shoes every month, handpicked for you by our fashion experts.

Pineapple Chicken and Avocado Tomato Salad by the BBQ Pit

www.youtube.com/watch?v=0L5Ga1fBG-k

What? The BBQ Pit Boys are making a salad..? Vegematics rejoice! Whether you like fruits, veggies, and leafy green stuff or not, ya gotta check this recipe ...

Golden Rule - Wikipedia, the free encyclopedia

en.wikipedia.org/wiki/Golden_Rule

The Golden Rule or ethic of reciprocity is a maxim, ethical code or morality that essentially states either of the following: (Positive form of Golden Rule): One ...

Best Barefoot Sandals Tarahumara Huarache Running Shoes

xero

shoes

.com

There are LOTS of reason you'll want to get out of your regular shoes and go barefoot or wear Xero Shoes. But the "barefoot world" is full of mythology, contradiction ...

Beads & Jewelry Supplies Artbeads.com - Swarovski Crystal ...

www.art

beads

.comSwarovski Crystal Beads Learning Center Beads

Best selection of beads and jewelry-making supplies and host to the world's largest community of beaders. Leading supplier of Swarovski, Artbeads ships fast, accurate ...

DIY Instructables - Share What You Make

www.instructables.comTechnology Craft Workshop Outside Food

Web-based documentation platform where people share what they do and how they do it, and learn from and collaborate with others.

bebe Women's Clothing and Apparel, Dresses, Tops, Jeans, Shoes ...

www.bebe.comDresses Tops Shoes Just In

bebe.com: Shop women's clothing, dresses, tops, shoes, jeans, handbags and accessories. See bebe's hottest styles and trends in our world-famous collection online.

Bob Vila - Home Improvement, Home Repair And Home Renovation

www.bobvila.com

Inspirational ideas and expert advice from Bob Vila, the most trusted name in home improvement, home renovation, home repair, and DIY.

Christian Louboutin

www.christianlouboutin.com

Official web site of the luxury French shoe and bag designer.