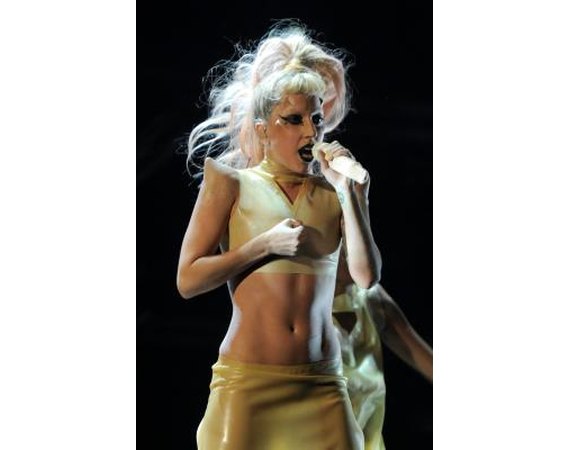 Late fashion designer Alexander McQueen introduced lobster claw shoes during his 2010 spring collection runway show. These extravagantly tall shoes, also known as armadillo shoes, feature lavish embellishments and towering 10-to-12-inch high stilettos. Nearly two years since their inception, these heels are still just as staggering -- pardon the pun -- but also just as rare. Celebrities have dished out thousands for McQueen's originals. If you can indeed get your hands on a pair -- or more realistically, something similar at a lower price -- you should recognize them as the epitome of couture, and style an accompanying outfit appropriately.
Instructions
Look Fabulous in Lobster Shoes
1

Choose a special and appropriate occasion. Lobster claw shoes are too dressy for any casual event but also too funky to wear with formal attire. They are also inappropriate in any professional or conventional setting. Take a tip from the celebrities. Lady Gaga, the first star to display this particular footwear, donned them in her "Bad Romance" music video. Celeb Daphne Guinness also wore a pair to a charity event hosted by NARS Cosmetics. Wear your lobster shoes to an event where avant-garde attire is welcome and encouraged, such as a premier showing at a contemporary art gallery.

2

Dress in figure-flattering couture. High heels tend to elicit a posture that draws attention to a woman's curves, and lobster shoes are no exception. As suggested by McQueen's runway models, pair them with a skin-tight leggings or a short, high-waisted skirt that shows off your legs. Your clothing need not be outrageously loud or colorful, but it should convey a powerful sense of progressive fashion.

3

Look like a pro. Don't venture out in public or, worse, attend a high profile event unprepared. Practice walking in the shoes in the privacy of your own home until you feel comfortable. This is important not only to avoid looking silly, but also to avoid hurting yourself. It is easy to trip or twist an ankle when wearing unfamiliar heels, especially when they are nearly a foot high. Also consider your environment. Never wear lobster heels when you will be walking on grass, cobblestone or any other uneven surface. You may also want to save them for amicable weather. Rain, ice and snow can contribute to a painful slip.
---