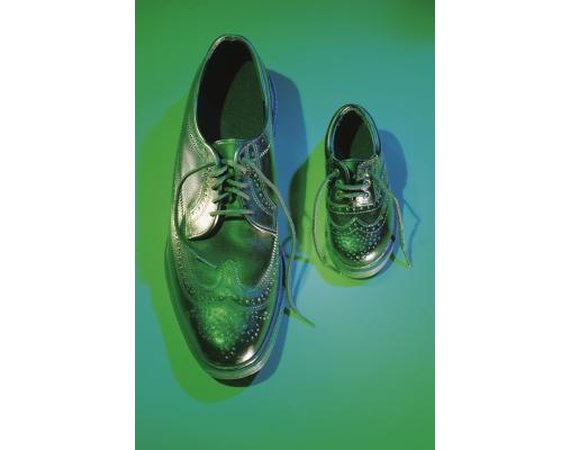 Those brand-new shoes look attractive, but they are just a little too tight and rigid to be comfortable. Quality leather shoes are made to stretch to conform to your foot, but the leather is only going to stretch a small amount. You probably can't stretch your shoes an entire shoe size, but, with a little bit of time and effort, those slightly tight shoes will feel just as good as they look.
Instructions
1

Let your feet help stretch the shoes; wear them at home for short periods of time. Put on a pair of thin socks with the shoes and walk around the room a few times before removing the shoes. Take off the shoes before they become painful. Repeat this process once or twice a day for two to three days.

2

Freeze the shoes to encourage stretching. Fill two resealable freezer bags one-third full of cold water. Seal the bags completely. Place one bag in each shoe and push the bags toward the toes. Place the shoes in the freezer and leave them overnight. As the water bags in the shoes expand, they will help expand the leather. Take the shoes out of the freezer; let the bags thaw for 30 minutes and then remove the bags. Try on the shoes.

3

Heat the shoes with a hair dryer. Put on a pair of thick socks and slide your feet into the shoes. Turn the hair dryer onto a high setting and go back and forth over the shoes for 30 seconds. Keep the shoes on until they have cooled and then remove them. Repeat until the shoes have expanded sufficiently; treat the shoes with a leather conditioner to restore moisture.

4

Use potatoes to stretch the leather. Peel two large potatoes; each potato should be large enough to create a bulge at the toe of the shoe. Slide one potato into each shoe and press them toward the toes. Leave the potatoes in the shoes overnight and remove them the next morning. Wipe off the residue in the shoes with a damp cloth.

5

Purchase a shoe stretcher. Adjust the length and width according to your foot size and place the stretcher in the shoe. Try on the shoe each day to determine the progress.
---