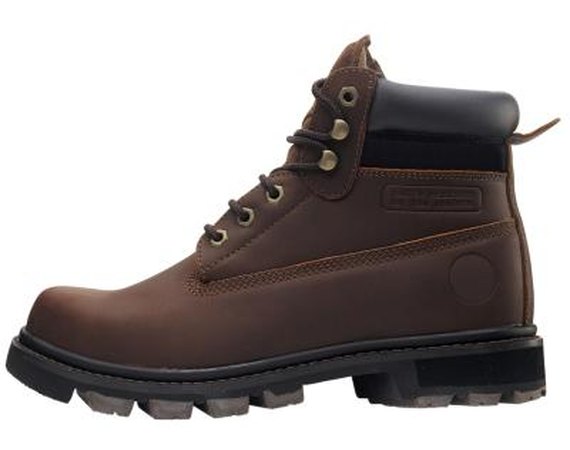 You found the perfect boots for that outfit in your closet, but the sizing is a bit off. You decide you can manage with the slightly loose boots, but by the end of day one, your feet are screaming. After the all-day wear, you cannot take them back and they were too expensive to give away or simply not wear, but your feet cringe whenever you think about slipping them on again. Before you shove the boots to the back of your closet, a few options may make those problem boots work for you.
Insoles
Inserts can help fill in the extra space between your tootsies and the stylish, but torturous, boots, according to the Ask Andy forums website. Look in your local drugstore or supermarket for the insoles with extra cushion and thickness. This could potentially take away the wiggle room that makes you want to do anything but dance. Make sure the insoles do not cause any additional rubbing or discomfort, or the boots will still give you trouble.
Stuffing
If your problem is too much room in the toes, you can stuff the toes with tissues or cotton balls to fill in the space. This will cut down on the sliding within the shoes, hopefully reducing discomfort. Do not stuff anything in your boot that causes extra rubbing, however. An added lump in your boot will not help the problem. Test your makeshift space savers by walking a few laps around your home before committing to the boots for the day. If you notice any pressure on your feet, this option may not work for you.
Bulk Up
You cannot exactly gain weight solely in your feet, but you can make them bulkier. Drag out the thick, fuzzy socks your grandmother gave you last Christmas. No matter how hideous they are, the socks will be hidden beneath the beautiful boots. If need be, layer a couple pairs of socks. Unless you are prone to hot feet, these extra layers will provide cozy warmth for your feet in the winter months you wear the boots, while reducing the floppy space that makes the boots unbearable. If the boots are still too big with the insoles, cotton balls and fuzzy socks, you may have to hang up your boots. Give them to your larger-footed friend or reserve them for days you are mostly sitting. No matter how perfect the boots may be, you owe it to yourself to not torture your feet with ill-fitting boots.
---