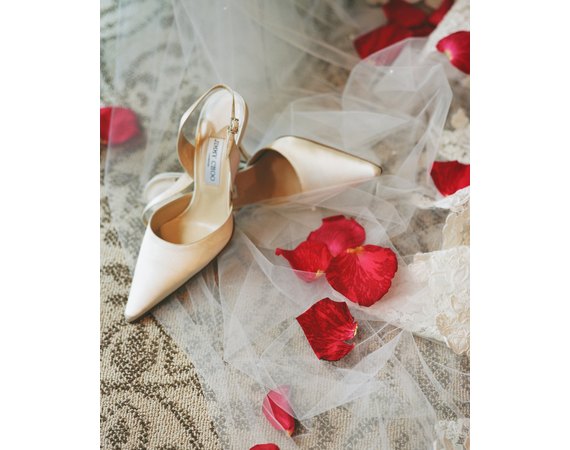 A great pair of quality shoes can uplift your outfit and appearance. They can also make your day more comfortable and productive as you spend a great deal of time on your feet. A shoe embellishment is a fun way to change your look without having to buy a new pair of shoes. Try this creative way to freshen up a pair of shoes with a variety of changeable embellishments.
Instructions
1

Choose a ribbon made of satin, velvet, suede or other materials that matches or complements the color of your shoes. The ribbon should be approximately 1 to 3 inches wide, depending on the design of your shoes. Wider ribbon will cover more of the toe area of your shoes. Cut two pieces of ribbon approximately 12 inches long.

2

Thread the needle with thread that matches the color of your ribbon. Beginning at one end of a piece of cut ribbon, fold the ribbon in an under-over pattern four times so that loops of the ribbon are stacked together and you end up with a 3-inch ruffle of ribbon. Sew the ribbon together at one folded side so that the other side is an open ruffle of ribbon loops. Repeat with the second piece of ribbon.

3

Glue each ribbon ruffle onto a shoe clip or sliding hairpin, so that the clip or pin is completely hidden by the ruffle. Attach the ribbon embellishment to your shoes for a brand new look.
---